We provide custom development and application development for major mobile platforms and offer customers great value and a compelling mobile proposition in all market segments.
No one can escape the impact mobile has had on today's business. Mobile traffic is growing extremely quickly, continues to grow and shows no sign of slowing down. Mobile's ability to do advertising anytime-anywhere to any individual with a mobile phone is a great marketing tool.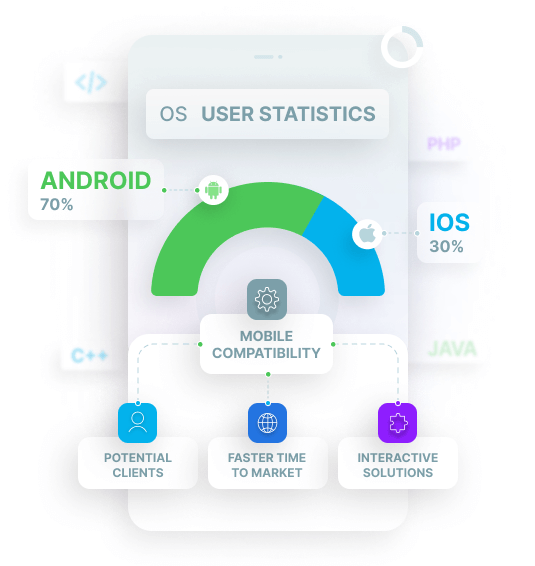 Mobile Compatibility = Leads + Faster Time to Market + Interactive Solutions
Your potential customers are around the corner. Let us show you some numbers gathered from Google's study on smartphone users:
79% apply smartphone to help with shopping;
28% of those that see a mobile ad take action;
59% of users visit an online store after looking it up online;
95% turn to account their phones to search for a local or regional business;
91% smartphone owners use mobile Internet to socialize, compared to 79% on desktops.
Desktops already account 39% of Internet traffic and according to the situation on the market by 2016 Internet traffic from smartphone will surpass the desktop one.
According to IDC (International Data Corporation) Android has made significant gains in the last year, while Blackberry and IOS have led the charge in the smartphones market in the recent past.