What are Unified Communications?
It's an integration of multiple methods of enterprise communication into one seamless process. Unified Communications solutions enable you to reach an individual with the best communication tool available depending on where they are working or what device they are using. With Unified Communications your employees can have one number that rings all of their devices. It will take them one click to move the conversation from one device to another, switch from audio to video and vice versa, enable files sharing, extract the needed data, invite other members of the team to a conference call, etc. Such an approach reduces communication complexity and facilitates your business processes.
Effective communication is the driving force behind a successful enterprise. That's why we have created a single environment that connects everyone in your organization: customers, partners, and employees.
At Webxloo we have a unified communications platform with a variety of solutions for companies of all sizes:
The WX CRM system helps your Sales, Marketing, and Service reps to appropriately follow-up with leads. Our Mobile CRM app allows your workforce to access data on-the-go and provide customers with the best service available.
WX Chat is a multifaceted communication platform that unites your teams and allows them to collaborate more efficiently and always have the work done on time. The integration with a Live Chat forward customers' requests to the WX Chat making it easy for your Support and Sales teams to effectively manage them.
As the Live Chat is integrated with our CRM, leads for new customers can be created in just one click.
WX Pay (Beta)
With WX Pay you will enable your customers to securely make payments online via your website.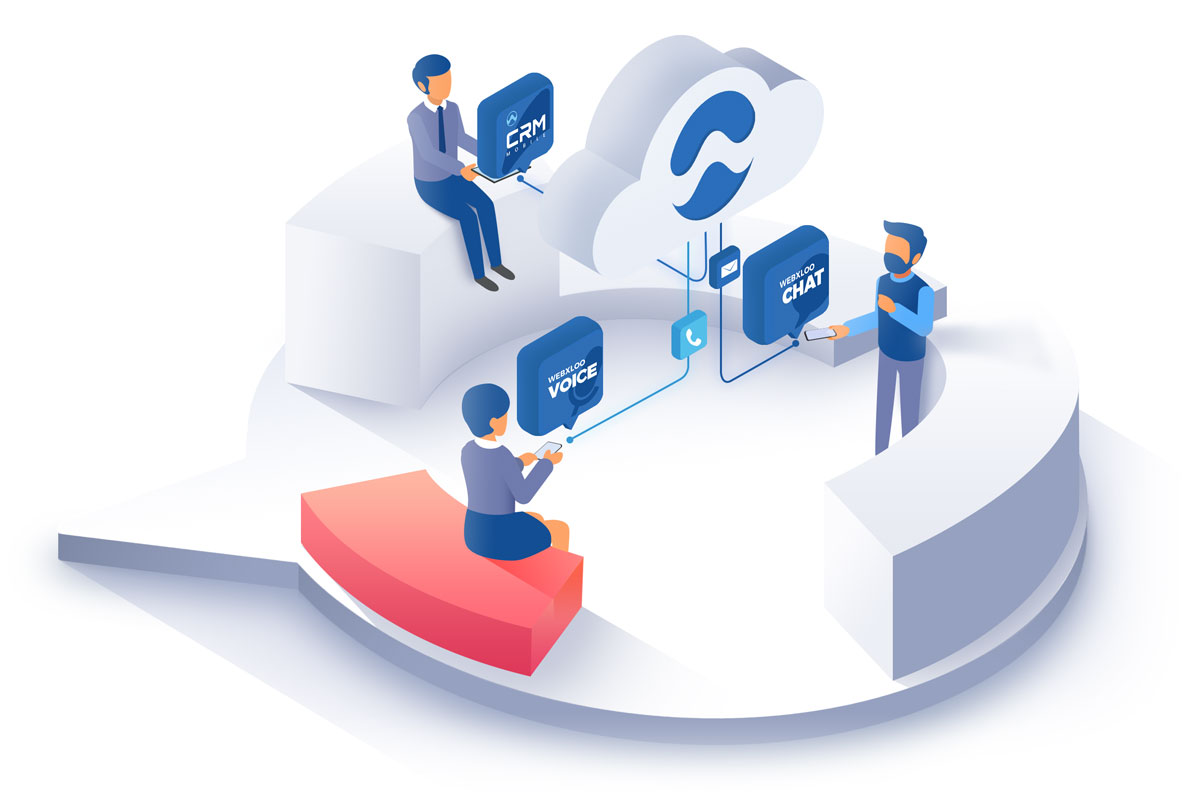 The WX Voice app is a powerful tool for in-company communications that works smoothly on both iOS and Android devices and keeps people connected to your business.
The Call Routing feature helps you to always be there for your customers regardless of their physical location by forwarding any call to an available employee depending on the time of the day. With WX Voice, you prevent losing customers or causing frustration and your business is moving with the Sun.
WX BI (Beta)
WX Business Intelligence (BI) Tools is a unified communications solution that cleans, correlates, and unites business data from different sources: web, mobile, social, back-end, CRM, or any other source, and generate detailed and easy-to-read reports.
WX Flex (Beta)
WX Flex (PBX & SIP) is a cloud-based phone system for business that enables long-distance calling through the existing Internet connection thereby reducing your business phone expenditures.
WX Commerce is an e-commerce platform that powers up your online store making it possible to sell around the clock.
WX Flow (Beta)
Our WX Flow is a unified digital workplace that enables an automated and seamless execution of tasks and can be integrated with any type of business software.
Our Unified Communications solutions will help you to:
Create a consistent unified user interface across multiple devices
Have permanent access to your data for all projects
Remain available to customers, partners, and employees
Build stronger relationships
Optimize business processes
Improve productivity
Resolve issues quicker
Increase customer satisfaction