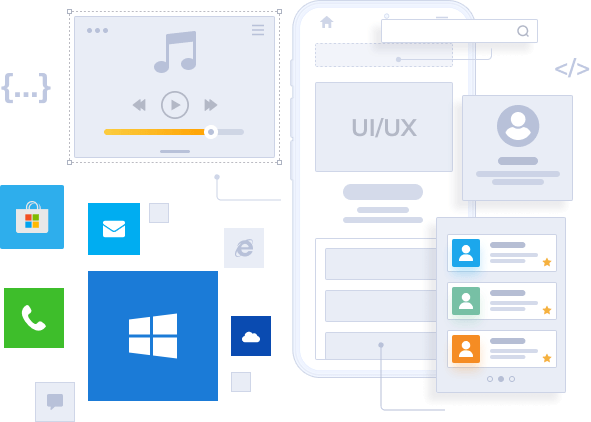 Windows Phone™ is a Microsoft's operating system for mobile and other hand-held devices. We have effectively placed ourselves on the cutting edge of Windows Phone App development. Webxloo has powerful resources to develop, design, test and enhance applications and software.
Windows Phone™ leverages much of the same technology used by Microsoft OS and therefore is the feature rich, and readily compatible with other Microsoft platforms. Operating system which has all the features which every user wants in the smart phone. Teams of our company are highly qualified, versatile and experienced in developing apps and solutions.
Looking for professional Windows Phone developers? You've found the right company. With Webxloo's mature talents and proven expertise, you can realize all possible mobile development services at the richest form.
Key Strength of Webxloo's Windows Phone App:
Develop applications by keeping the target audience in mind;
Create apps with HTML5 support;
Customize Windows Mobile Apps;
Leverage other Microsoft tools including Microsoft Office, Outlook and Internet Explorer;

Wide range of third party hardware providers (smartphones, PDAs, scanners, and other third party hardware);
Use common Microsoft technologies - Visual Studio (Visual C++, Visual Basic, .NET, C#) programming language;

Savvy implementation of rich features, data interaction, tool bars, app's core, setting;
Enhancement of previous features or changing them for newer editions;
Proven technology with strong commercial history.