The strength of your business lies in your staff, so unimpeded communication between team members regardless of their location makes all the difference.
When your company grows and hires more employees, it's time to ask yourself: is my corporate phone system cost-effective? If you have remote staff, or branches in different time zones, any real-time interactions can get pretty costly. Or maybe you travel a lot and need to manage incoming calls from different locations in the world.
The Webxloo PBX System can upgrade your day-to-day business communication, boost employee productivity and customer service, and help you to always stay in touch with all of your staff.
It is the next generation of in-company communications that will enable you to reduce and control your business phone expenditures.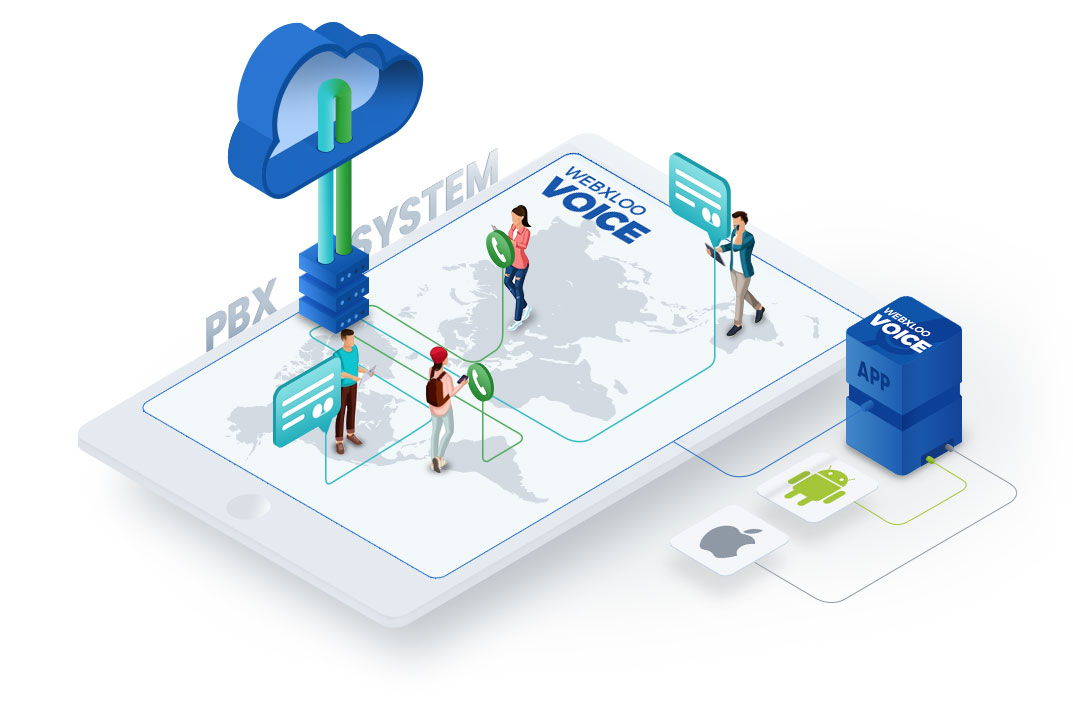 What is the Webxloo PBX System?
A PBX (or Private Branch Exchange) is a telephone switching system that doesn't require actual phone lines to make and receive calls. A PBX manages incoming and outgoing calls for your company's internal users. The connections are established through your existing internet connection, so it is much more practical than utilizing landline telephone services or a cellular network.
You can assign a unique phone extension for every connection your company has, all the while creating a private and secure internal network. The Webxloo PBX System will automatically route incoming calls to specific extensions and connect teammates from around the globe. You don't have to worry about the costs any longer because even long distance calls are placed over the Internet.
The Webxloo PBX System is a full-featured unified communication service that has been developed in-house. Originally we created this system for ourselves, so it has been thoroughly tried and tested, and is being continually improved. Our Webxloo PBX is very easy to deploy, administer, and maintain.
What can you use it for?
Call switching and routing
Automated attendant
Voicemail
Call transfer
Call parking
Call queuing
Call recording
Conference calling
Outgoing and incoming call management
Since every company has its specific workflow, all of our packages are very flexible. Webxloo is committed to providing personalized service, so one of our managers will help you to select the configuration that will best suit your particular business model. We will analyze your call volume, number of extensions, recording options, and voice message delivery needs. Then we can offer you a customized plan in accordance with your ongoing requirements.
Webxloo PBX System Advantages
Redefines your team's communication
Improves overall voice quality
Enables your staff to collaborate more effectively
Reduces communication and network management expenses
Minimizes travel costs
Can be set up according to your company's needs
Routes calls after hours, thereby decreasing the number of abandoned calls
Can be customized to any particular workflow
Helps you to run your business as if all of your staff were under one roof
The Webxloo Voice app allows everyone to stay connected and to be productive from wherever they are.
Never Miss a Call with our Webxloo Voice app
To help keep your business running after hours, we have developed Webxloo Voice. It is a mobile application for in-company communication. Every employee can install Webxloo Voice on their device and be readily available for after hours work issues even when they're away from the office.
The Webxloo Voice app allows everyone to stay connected and to be productive from wherever they are. The app is hosted on our own server, therefore your internal communications won't be intercepted or monitored by third parties.
Direct 1-to-1 conversations
Internal and external messaging
Secure calls
File sharing
Audio conference calls
Call transferring
Voicemail
Multiple accounts
Do you want the app to have your company's brand name and logo? Not a problem! You can have our Webxloo Voice app functionality to include your company's name.
Webxloo Voice is available for both iOS and Android devices.