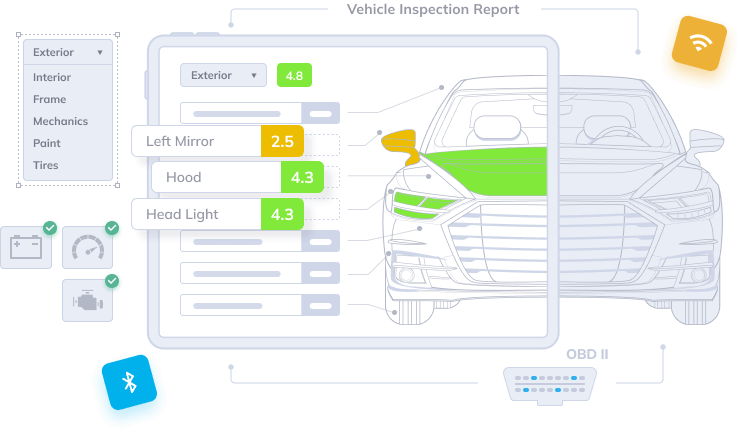 We have all the necessary resources and ideas to create an effective peripheral connectivity. Traditional peripherals like keyboard, monitor, microphone, smartphone, tablets etc. are devices that allow users to input the information and output it from the computer. By using such a peripheral device known as OBD-adaptor (On-Board Diagnostics) or OBD-scanner, modern dealerships and drivers have an excellent opportunity to detect all problems with vehicle electronics in a couple of minutes.
We examine all the technologies widely used in auto sales and constantly search for new instruments. Webxloo presents the OBD II function used for On-Board Diagnostics as a part of the Vehicle Inspection ReportTM module which allows car dealers to carry out the detailed inspections of their vehicles online and create the reports which meet the latest know-how requirements.
OBD-adaptor transmits the data about the vehicle's condition from a car's on-board computer to a mobile device via Bluetooth or Wi-Fi connection. OBD technology is very simple. All you need to do is to download the OBD II app insert an OBD adaptor into the vehicle and connect to it. OBD functions include reading the diagnostic malfunction codes, clearing these codes; displaying the current sensor data etc. OBD is a great solution for car dealer businesses and car drivers who care about their vehicles.
Webxloo provides top quality services on development applications, modules, tools or any other software you need for your business efficiency. We can bring to life all your incredible thoughts and views by making real products out of them and building a strong basis and a competitive advantage for your brand.