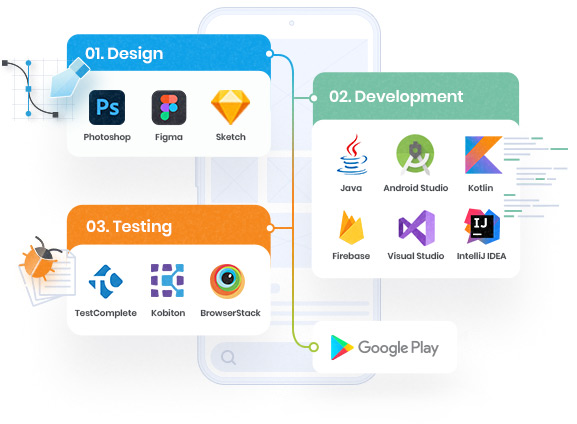 Due to nowadays flexible web access, mobile apps give everyone much convenience to accomplish their business goals. Webxloo recognizes that our customers need the ability to access real-time market information wherever they are and we decided to develop mobile applications. They help business professionals by offering numerous convenient tools and covering a massive area of categories such as applicable based on location, communication, browsing and Internet, online e-commerce, multimedia, entertainment and more.
Make Business' Tasks Organization Easier:
Java based on language, supported by Google-developed Java libraries;
Android SDK ensures fast time to market;
Custom Android Application Development;
Hire Google Android Developers;
Android Mobile Application Development.
Android is an open source mobile operating system with the full technology support of Google. Powered by and fully supported by Google brainpower, the power of this platform is being fully exploited by developers to create solutions from an increasingly demanding user community. Many businesses taking advantage of this smart operating system by porting their business process in Android Platform.
Thinking to develop an Android Application for your own business? You've found Webxloo, an experienced and expertise Android developer team, to create innovative apps that could successfully market and promote businesses' products and services. You will require minimal expenditure and gain an impressive profit from the Android based programs.