Webxloo Chat is an integrated communication platform built for teams. It is a tool that unites your employees and helps them to collaborate easily getting work done on time.
With one-on-one and group messaging, audio and video conferencing, searchable chat history, content sharing (docs, sheets, slides), GIFs, stickers, emojis, and many other features, your company conversations are well-organized and efficient.
With Webxloo Chat you will grow better business relationships through more effective business communication. Connect with any member of your team, anywhere, anytime.
Integration with Live Chat
Try out our new popular feature that allows you to manage communications and interactions with your customers directly in Webxloo Chat.
When your website visitors engage in Live chat, their support requests are immediately forwarded to Webxloo Chat and can be processed by any one of your customer support representatives that are online.
If all of your agents are either unavailable or away, an "Offline Message" form allows customers to submit these messages after-hours. Visitors can then leave a message with their contact information for your support reps to get back to them once they return online.
With this Webxloo Chat s feature you don t need to have a separate platform for handling your customer service inquiries. The integration with Live Chat allows you to make sure that every request, whether an offline or online one, is followed up on and always falls into the right hands.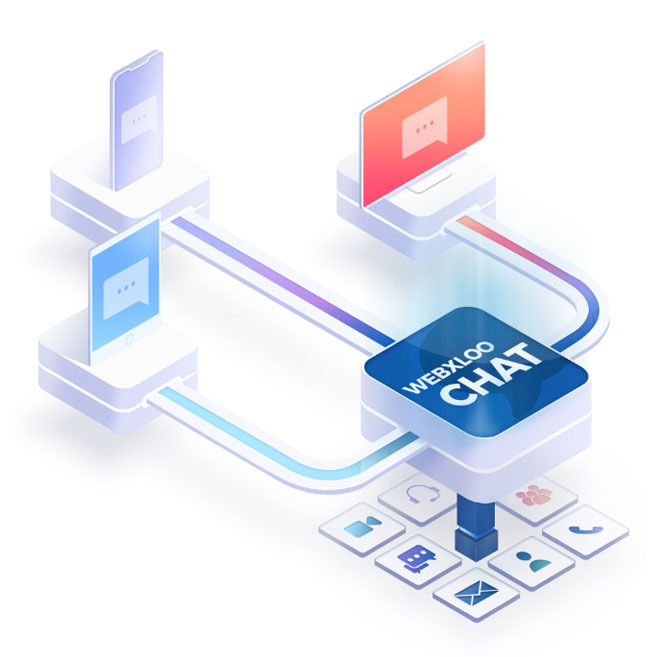 Webxloo Chat features:
Limitless business communication through direct messages or private groups
One-on-one or group meetings with video chat
Real-time chats while on the go
Text and files sharing
Integration with Live chat
Groupable chats
Starred messages and favorite conversations
User presence and statuses
Search through chat history and files list
Editable messages
Notifications preferences for rooms
"Unread on top" feature
Different view modes
Customizable themes
Mentions, avatars
An ability to block particular users
Webxloo Chat is available for all major desktop (Windows, Linux, and Mac OS) and mobile operating systems (Android and iOS).
Webxloo Chat is a real-time chat app for business and a secure environment that brings your team closer together.