The process of signing documents using paper and ink is very time consuming. A customer either has to wait until the document arrives in the letterbox or print it out from an email, sign it and send it back by post, or scan it and send via  email. People often lack the time needed to complete this process. This results in getting the documents signed after weeks of time. Webxloo offers you a much better option of managing your contracts, transactions, and administrative procedures.
What is the solution?
Webxloo's electronic signature software is a state-of-the-art alternative to  time-consuming stamped seals and handwritten signatures.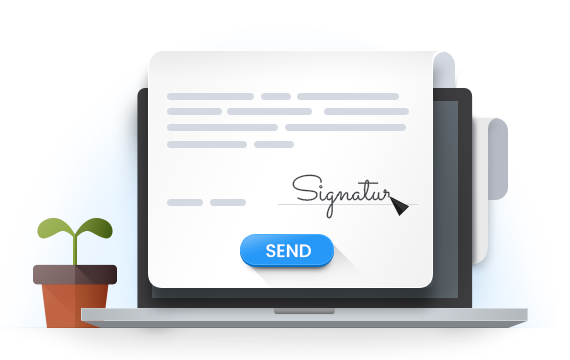 What is an electronic signature?
An electronic signature or E-signature is an improved method of verifying a transaction or signing an agreement which eliminates the need of using paper and ink. By providing an electronic version of his/her signature, your customers show their agreement to the conditions and terms of an electronic service and can declare that all the details they have furnished are true and correct. E-signatures are legally valid and comply with applicable laws and regulations. The ESIGN Act that was passed in 2000, grants legal recognition to electronic signatures and records.
Webxloo's electronic signature software is a document management solution that enables you to create, securely sign, store, share, and print your legally binding documents online.
What is an electronic signature?
More customers will complete their checkouts
Streamlines and speeds up your business processes
Reduces expenses on document printing and delivery
Shortens your sales cycle and increases your conversion rate
Proves that you are keeping pace with technology
Offers your customers much more than your competitors can offer