Java is an open source independent platform. It is the only commonly used programming language that has internationalization features at its very core. JAVA is a proven Sun technology providing our developers a great tool to solve a wide range of client problems. Webxloo brings our vast experience, best practices and tools into partnership with the clients to deal smoothly for business development.
Java is an elegant language combined with a powerful and well-designed set of APIs. Programmers enjoy programming in Java and are usually amazed at how quickly they can get results with it.
We understand each client's requirements and make sure to provide unique way to work with you. Webxloo is always at your service; your job will have done in time with the finest accuracy.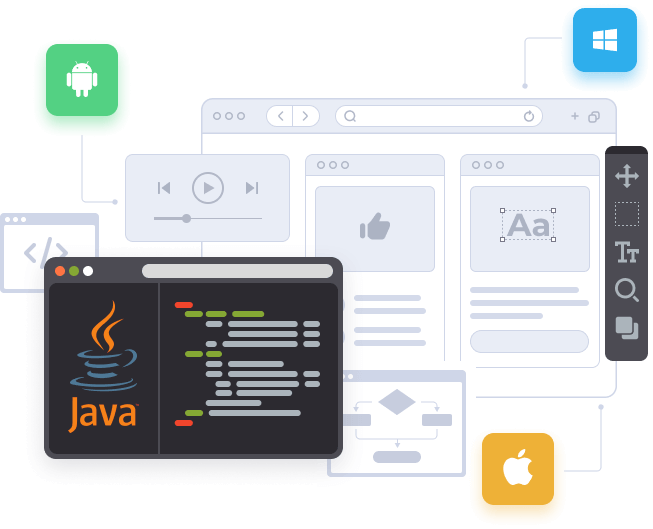 Popular Types of Java:
Java EE (Enterprise Edition) – Used for new web development and custom web applications;
Java EE Web Application Technologies – 3D screen animation, controls text and animation movement across screen;
Java SE (Standard Edition Platform);
Java Programming Services;
J2ME (Java 2 Micro Edition) - for small device control (automotive industry, consumer TV set-top boxes. A great solution for creating games for mobile devices;
Java ME (Java platform, Micro Edition);
J2EE;
J2SE;
JSP (Java Server Pages) – dynamically generated HTML or XML webpages, used primarily for intranet support.
Take a Look at Other Significant Features of Java Development:
Java runs on most major hardware and OS platforms;
Since JAVA is open source, clients do not have annual licensing fees;
Object oriented supports efficient programming through modules and reusable code;
Sharing of data across applications is simplified with JAVA's open API's;

Delivers an advanced, highly secure application environment;
Multi-platform support and support for web-services;
Java perform supports garbage collection and so memory management is automatic;
Network-centric platform what means that a Java application can dynamically extend itself by loading new classes over a network;

Combine applications or services to create highly customized applications or services;
The most popular application platform on the planet and delivers a vibrant developer ecosystem fueled by powerful tools, books, libraries, code samples, and more.