Webxloo team provides PBX/SIP services for creation of a corporate telephone/online communication system with the main voice transmission channel known as VoIP. Our IP-PBX system integrates all office phones and computers into one intelligent network which allows a variety of voice services. We realize the voice transmission for physical networks by using the Internet and already existing local network. It allows to combine multiple geographically dispersed offices in one telephone and online communication system and to provide remote and mobile workers with free interaction. There is no need to install VoIP server and the required equipment by hand. We guarantee all the stuff cut and dried.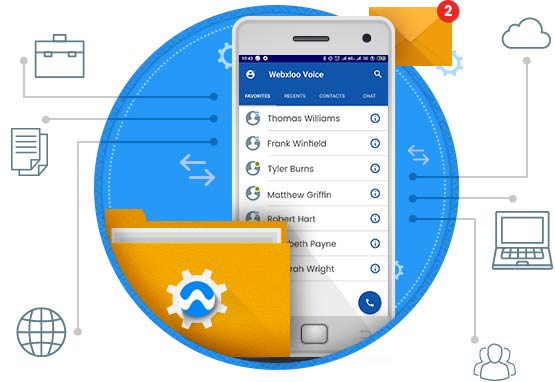 What We Provide Within Our PBX/SIP Development:
Phone number APIs;
A telephone conversation recording and saving;
A conference creation and rsiprection to other number;
API for mass service;
Call queues;
Callback statuses and history;
Global coverage;
An incoming number selection;
An office PBX functionality;
Voice supply;
Messaging and notification possibilities;
Speech to text format;
One incoming number for the calls to all phones;
Contact system integration;
Complete call history.
PBX/SIP communication is gaining steam among modern companies and firms. It helps a business work faster and gain a pace of work as people are able to connect to each other from any place of the world without being bound to local phone operators. What you really need is a mobile device and the Internet connection. Webxloo PBX/SIP services set you free from the necessity to wait for a call near the desk phone or computer. Our technologies erase all borders and limits between countries and spaces.

Our PBX/SIP Capabilities Include the Following:
Web and mobile (Android and iOS) apps;
Mobile to mobile service;
App to mobile possibility;
App to app calls.