Things in the healthcare industry have been upside down lately: as a doctor you will see patients only if they can see you well online. To make this happen you need expert medical SEO services that are very different from SEO services for any other vertical. There are certain industry-specific requirements that your SEO provider must be aware of. Due to the increase in the number of SEO agencies, you are at high risk of being the first doctor they have ever worked with.
As the agency that has plenty of experience in SEO for medical clinics, we have decided to list SEO activities that we do for our clients such as anti-aging clinics, urgent care centers, alternative medicine practices, regenerative orthopedic centers, just to name a few.
Below we have unboxed our medical SEO packages to show you how it should be done. But first things first.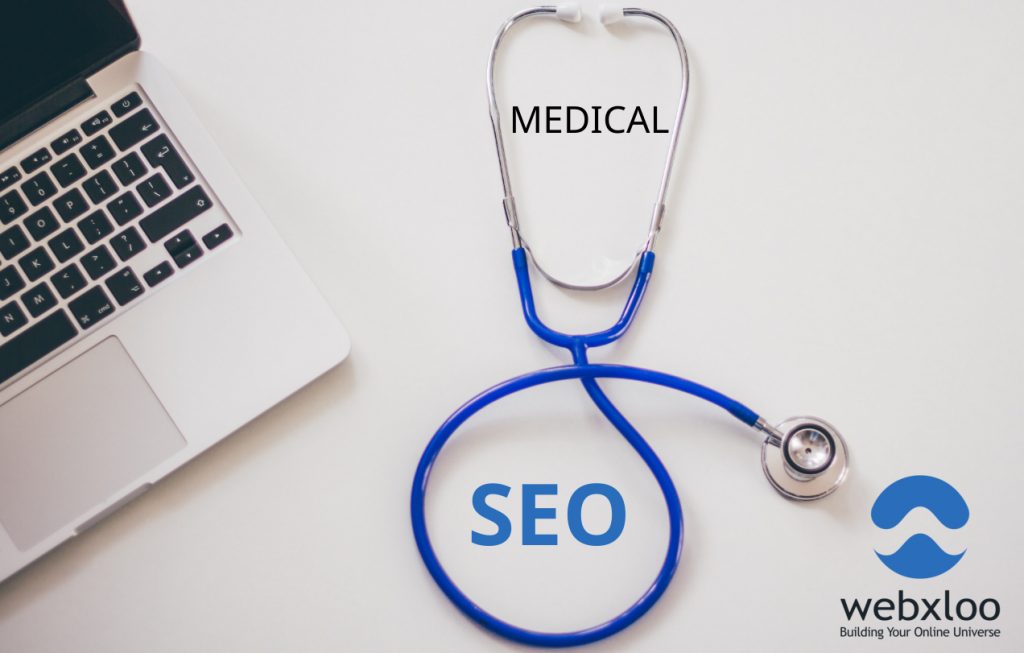 What Is Medical SEO?
Medical SEO is a process of increasing the online visibility of medical facilities.
The main purpose and the desired outcome of medical SEO is clear: to connect your clinic with people that are looking for the services and procedures you provide.
When your waiting room is half-empty, you might think that there is a lack of patients but more often than not it's just the lack of optimization.
So what do we do for our clients in order to always keep their schedule full and to fill all of the open appointments?
Webxloo Medical SEO
Now it should be mentioned that the list below is a mix of basic activities that are generic though essential for every business out there, and the niche-specific techniques that will help your clinic to increase its online visibility.
Google My Business Listing Optimization
Healthcare is predominantly a local business that needs local SEO. Google My Business (GMB) is a root of it. That's why whoever will be doing SEO for you, should start by creating the GMB listings for all of your clinic locations, claiming your physical business address, hours, and contact information, and verifying your account.
This way your listings with rich data will show up every time a desktop or mobile user is searching for services like yours in their area.
Our clients often have more than one location and it's absolutely great in terms of their business, but the more locations you have to list and manage, the more complex and time-consuming it gets. From choosing the category that best describes your overall model, through having consistent NAP data across your website and your listings, to linking your GMB and AdWords accounts.
Don't forget about the photos, videos, and virtual tours that you can add to your GMB profile to showcase your business and describe your medical facility as clean and modern and your staff as friendly and caring.
Of course people can conclude the latter themselves by reading your Google reviews that will also show up in your listings (and need to be responded to).
As you can see, there is more to GMB than meets the eye, meaning you need more time to do it right. But all of the hard work will pay off when you see the significant increase in your positions.
Link Building
It's very important for medical SEO to acquire links that lead to your website from reputable sources like medical organizations, online medical journals, heavily trafficked health forums, or well-respected bloggers. By doing this, you are building trust with search engines, thus gaining better positions for your website on SERPs.
However, you can't just leave bare links to your website wherever you want. If it was so easy, there wouldn't be any job for link builder specialists.
Aside from finding places to actually post links, you need to have something to post as well. You need relatable content of high-quality: diet tips if you are a nutritionist, exercises for knees if you are an orthopedic doctor, cat bites symptoms if you are an urgent care clinic, etc. The articles can be good, but infographics and videos should also be a part of your link building strategy as the most sharable types of content.
Considering that you already have a full-time job, there are little to no chances you can do all of this alone (at least with the required regularity).
Website Optimization:
For more local visibility your textual and visual website content needs optimization. Filling it with top searched keywords related to your specialization and geo modifiers for the areas you cover, will help Google to choose your website over the non-optimized ones.
Content proofreading for compliance with Google guidelines
Medical content is special. Google reads it very carefully and when they find something they don't like or don't agree with, they can flag the whole page because of one word.
To avoid being flagged, you need to steer clear of certain health-related claims and always have visible disclaimers on your website.
Size matters when it comes to images on your website. Extra large photos and heavy file formats can slow down your loading times. At the same time, it's important to have images that depict your staff and your facility. Converting to formats that have better compression can be the way out.
Website design (landing pages, CTAs, banners, contact forms, seminar registration forms, online appointment scheduling)
It's half the battle to attract people's attention with catchy call-to-actions. The other half is to make sure that they actually work properly.
There is a sense of urgency as to the medical forms and online appointments: patients' requests need to be processed immediately. Unfortunately, online forms are a real pet peeve of online patients: on the one hand it's a very convenient option to book an appointment with a doctor, but on the other hand it's often a message to nowhere.
Having unreliable software is always harmful for your business, but if you are dealing with people's health, it can cost your clinic a reputation.
"They don't care about their patients! It's been 3 days, and they haven't even confirmed the appointment that I scheduled online!"
To avoid a frustrated patient writing 1-star review about you, choose a provider that understands how important instant respond is, and always tests their software beforehand.
If your patients are multinational, they will greatly appreciate understandable medical content. An ability to switch to their mother tongue can become your competitive advantage over other nearby clinics.
Reputation Management for Doctors
Once upon a time a doctor was asked: if you have to choose between losing your hand or losing your reputation - what would be your choice? The doctor said: without my hand I wouldn't be able to do my job. And the answer was: but without your reputation, you wouldn't have any.
Your online reputation determines whether you'll be fully booked or be handing out flyers on the streets because this is what patients pay the most attention when looking for a healthcare provider for themselves or especially for their kids.
We promote and share positive reviews from our clients' patients, as well as we make sure that there is little or no negative web content associated with their names.
Social Media Management
Doctors! Please get involved with social media to put an end to raw meat diets, coffee enemas, and self-medication collectively prescribed by forum members.
As the medical SEO experts, we will definitely help you to manage your social presence, create brand awareness and let people know your practice better through Instagram, Twitter, Facebook and others. It's our job and we do it well.
There are tons of health myths that you can debunk on your social media pages to generate the buzz, trigger people's emotions and make them want to discuss and share your opinion.
This way you will help people online and will have all the benefits of the controversial marketing without any risks involved.
PPC
There are strict advertising policies for healthcare and medicine on Google. Not knowing them can cost you money, time, and even a blacklisted website. Aside from general rules, there are local regulations for some areas that might be your target.
Make sure that your SEO provider knows how to avoid disapproval and run the effective PPC campaigns for you.
Takeaway
We hope that you have enjoyed reading our list. Choose your medical SEO services provider wisely and if you need any help, just contact us. Webxloo has been doing SEO for medical clinics for more than 14 years. Visit our gallery to see the medical websites that we have built and optimized.
Last updated on December 17th, 2019