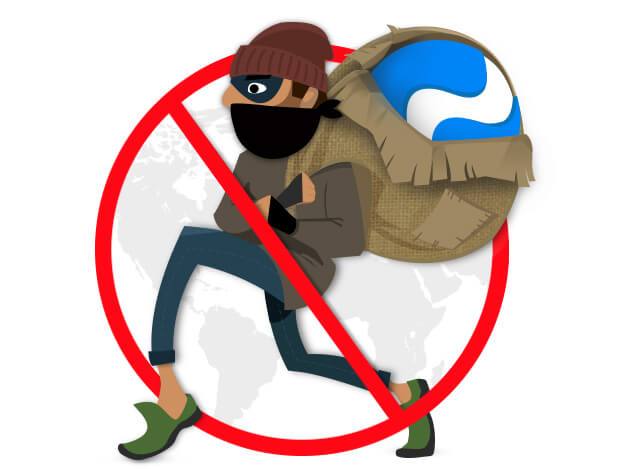 Recently Webxloo website has been cloned. We discovered this act of piracy in a week and our reaction was prompt and instant. We made different queries to find out the reason of this action and understood that our response had to be urgent. This was the first step of well-known black-hat SEO technique that forces Google to ban original websites and thus site-clones get all existing donor-site positions. We took all possible measures and in the end we got the cloned website suspended and removed from Google results. Now we would like to share our steps, actions and results with you to prevent such acts of the Internet crime in the future.
How Did We Detect a Website Clone?
We discovered the cloning through Google Analytics. As our website was fully copied our counters were copied as well. In the analytics we noticed the visits coming to a different domain. We checked the statistics and found out that in ten days prior our website had been cloned to a local server and in three days after that there had been a new domain registered so the site had appeared on live.
What Were Our Steps to Remove a Cloned Website?
First of all our developers closed the website from further copying. They entered in htaccess a list of user agents against different programs which could copy websites.
We checked where the copy domain was registered and what their hosting provider was. It was GoDaddy.com.
We looked through the information about this hosting via whois service, found out the email to submit the complaints abuse@godaddy.com and applied.
In response we received a detailed email with the information where to file the complaints on different issues such as copyright complaints, trademark complaints, phishing, suspicious domain, domain disputes, account changes, malware, spam, network abuse, content complaints, and child abuse.Our complaint referred to the copyright abuse. The email we received contained the address to contact and the link to go to the proper form.
We filled out the form as they promised to solve our problem as soon as possible through the form submission.
Alongside with GoDaddy complaint we filed an application to Google support. Our email had the cloned website domain attached and the information that all our pages had been copied. Google responded that they needed all the links one-by-one, one link per a line.
We sent another email to Google. This time we included every page link we had to avoid misunderstanding with Google.
Meanwhile GoDaddy stopped the clone website's work. It got suspended.
The last Google's email said that they didn't find such site pages (of course, the hosting had deleted them), and that they wouldn't make any changes as the algorithm was working correctly.

As practice shows nowadays so many mischievous SEOs take the positions of good websites in the most popular search engine results to gain an organic traffic. To protect your website from cloning you can put additional security against the cloning programs to your website so they will be blocked. You can turn on the protection from the opening your site in iframe or track access logins to it. You can use traps in the scripts as well. Nevertheless you can't fully protect yourself as there will always be people who will find ways to bypass the blocks.
---
Webxloo in its turn can provide you with all the necessary software, support and development to enhance your website and business security.