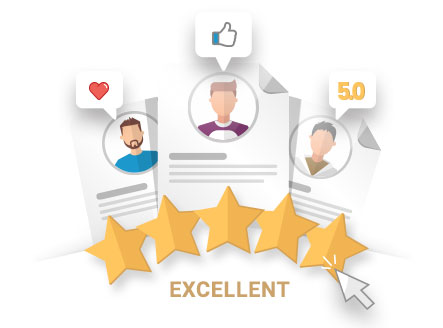 Almost 90% of customers study relevant online information about a vendor before making a purchase or even contacting a company. However, a visible decline in trust in brands has seen worldwide.
According to the survey of more than 6,300 adult Internet users, in 2019 the money wasted by means of somewhat fake or inaccurate online reviews accounted for on average of $125 per American consumer.
These consumers can no longer afford to blindly trust such claims made by businesses themselves. As they become more cautious about the information they receive, it's natural to search for what their peers are saying about their experience with any given company.
As the trust in brands declines and with online shopping on the rise, the consumer review sites become an unavoidable step in today's buyer journey making the online reputation management services a necessary step towards a better business.
What Is Online Reputation Management?
The main goal pursued by online reputation management services is to make an immediate impression of your brand to work in your favor in order to convince people to buy from you rather than from your competition.
It's an ongoing process of either building or restoring your online image, improving the weak spots, and creating an overall positive public opinion.
Consumer reviews are a substantial part of any online reputation management strategy as online audiences pay the most attention to what other people have to say about a product or a service. Working with reviews involves spotting them across the web and responding to both good and bad ones in a way that will show customers that you listen and care, and most importantly that you don't shy away from taking responsibility for your mistakes.
As your business grows and you become a threat to other companies in your niche, some people will try to tarnish your reputation by leaving negative comments on review sites that are most visited by your potential customers.
Contacting the review platform holders and asking them to delete what is deemed to be defamation is also one of the most important online reputation management services that you need to have.
Where Can You Compile Reviews from Real People?
In order for your business to benefit from these findings and be able to deliver transparency and realness, you need to provide places where people can talk about you with others.
Google My Business (GMB)
GMB is a great platform for a number of reasons. First of all, it's an absolutely vital tool for local businesses that want to increase their visibility and foot traffic.
Second of all, it's an invaluable platform reputation-wise because it's easy to drop a quick review for every user with an active Google account from both desktop or mobile devices. It has been stated that the more steps needed to be taken to leave a review, the higher the possibility users will quit halfway through.
Users Tend to Mistrust Perfect Reviews
Despite years of pursuing a 5.0 overall rating on GMB or other review sites, customers have become skeptical about a business defined as perfect by all of its customers. As opinions differ even on the most high quality products or services, сonsumers expect to see a mix of reviews that will mirror the validity of ratings rather than dozens of 'fives' that can be considered as fake and manipulated.
Social Media
Google My Business is unfortunately not applicable for businesses that are completely web-based and that don't have a physical location. If you run such a company but still want to collect valuable feedback from customers, there are many other platforms that should be included in your online reputation management strategy.
Being a place where most of the user-generated content is found, social media sites can effectively connect you with your target audience. As a business, you can appeal to your customers with relevant information, updates, news, and proposals while at the same time collect reviews on a regular basis.
Facebook recommendations (previously called reviews) help businesses to establish a reputation and become more discoverable. In late 2018, Facebook retired the star rating system and switched review ratings to recommendations where people can indicate whether they recommend your business to others by simply answering "Yes" or "No". All of the past star ratings were converted and saved.
Aside from recommendations or any other special services to rate a business, there are always comments, hashtags, tagging and mentions that work across all social media platforms and help users to express their opinions.
Customer Review Platforms
While rating brands is a secondary or even tertiary goal of Facebook, Instagram, Twitter, and other popular social networks, there are websites that focus solely at collecting reviews from real people. You have probably seen and even used some of them before:
Amazon Reviews
Angie's List
Better Business Bureau
Capterra
Choice
ConsumerReports
FinancesOnline
Foursquare
G2 Crowd
Glassdoor
HundredX
Influenster
Manta
Salesforce AppExchange
TestFreaks
TripAdvisor
TrustRadius
Trustpilot
Which?
Yelp
Setting up an account and claiming your business on these platforms will welcome customers to leave their feedback and can also bring in leads that are in the market for products or services that you provide. Our online reputation management services will help you to cover the platforms that are most relevant to your business and can respond to those reviews.
Your Own Website
Your website is a great place to collect reviews and testimonials. To make it even easier to get feedback, you can embed forms that will invite people to say their kind words. If you have an e-Commerce website, displaying a reminder to leave a review every time a customer checks out is undoubtedly a wise thing to do.
Takeaway
As we have entered an era where the About Us pages are being written by consumers rather than brands, the importance of online reputation management services can't be overestimated. Today, every business needs to demonstrate its willingness to be honest in order to win trust and market share. Having peer-generated content associated with your brand is becoming critical.
Since each and every customer that has bought from you has something to say, you should provide them with such an opportunity by means of different platforms. Any negative reviews are of significant value as they can identify your needed areas for improvement.
At Webxloo, we offer our customers online reputation management services that include setting up and managing accounts on review sites as well as on social media, constant monitoring of brand's mentions on the web, defamation reporting, writing and publishing press-releases, developing on-site forms to collect reviews and many more services depending on your business type and scale. Contact us today to discuss an online reputation management strategy that is the most beneficial for your business.
Last updated on March 20th, 2020