Our world of the mobile challenges will never stop surprise us with the new solutions. Not far ago people discussed an Instagram's changed look and even figured out the "Pros" and "Cons" of this update. Instead of focusing on the design we decided to take a closer look on the Instagram clones and found out why are they so popular and what is the reason to duplicate one well-known app.
WOULD YOU LIKE TO FOLLOW ME?
Twitter as one of the main "follow me" social website, was recently displaced from the favorites by the Instagram. The answer is simplicity. Instagram suggests users view pics and photos, share it, tag it, like comment and simply enjoy. Comparing with Twitter, Instagram doesn't need much explanation and description of the sharable photos or videos and moreover it is responsive. Maybe responsiveness is the main advantage to help attract visitors. Using attached camera people post photos and videos in real time as soon as it is made.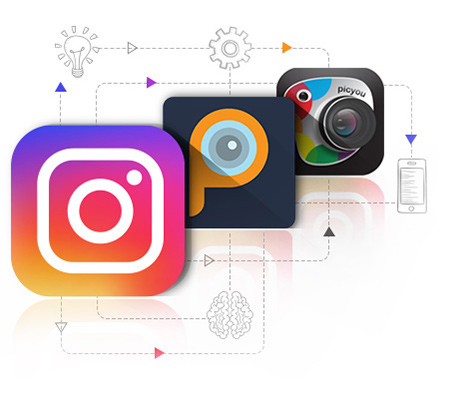 COPY OF COPY OR BETTER SOLUTION?
Want to have a copy of Instagram for your business or other needs? It's usual desire nowadays. Let's take a look at some copies:
Pic-O-Gram is a clone on both Android and IOS. It helps to share your life and fully packed with image filters , video filters and social connects. It has an ability to share posts on social networks such as Facebook, Twitter, Flickr, Instagram and more. As an advantage it also has a connected PHP Web Script and can be generated to the Instagram itself.
PicYou, an Instagram alternative was introduced in July 2011, is up for sale on Flippa. It gathered all above listed features like original Instagram. According to the listing, 2.4 million photos have been uploaded using PicYou so far, and the products have attracted some 600,000 registered users.
For those who want to hold a power of images and connect people, building the second Instagram will be a good tool for business.
WHAT DOES MAKE IT REALLY SIMPLE?
When it comes to choose tools Instagram developers prefer to use something simple and easygoing, in other words, good old working stuff. Their mix of SQL databases with NoSQL tools like Redis and host of traditional Ubuntu service in Amazon's cloud makes it like more cutting edge. Let's consider it closer.
Hosting. Instagram runs on Ubuntu Linux 11.04 ("Natty Narwhal") server on Amazon EC2. The reason was to choose something run smoothly and quickly and avoid freezes and stacks in the traffic. Natty was a real solution to skip negative customers.
Load Balance. Every request goes through Amazon's Elastic Load Balancer, with 3 NGINX instances behind it that can be swapped in and out (and are automatically taken out of rotation if they fail a health check). Amazon's Route53 for DNS as good tool for GUI in the AWS console is also uses to keep loading balance
Server. Instagram use Gunicorn as WSGI server, because it is much easier to configure, and less CPU-intensive. To run commands on many instances at once (like deploying code), they use Fabric, which recently added a useful parallel mode so that deploys take a matter of seconds.
Data storage. Most of Instagram's data lives in PostgreSQL. For numerous of key value pairs for fast feed Instagram uses Redis instead of Apache as web server. All in all Instagram uses a very impressive setup to avoid the down time that has plague many similar services hit with the same kind of exponential growth.
Our company developed a great variety of applications for different businesses (whether iOS or Android). We offer customization features according to your needs and wants. All above mentioned technologies are already used by our experienced specialists.
---
We hope this article helped you to find the right solution. In case of any questions don't hesitate to contact us.