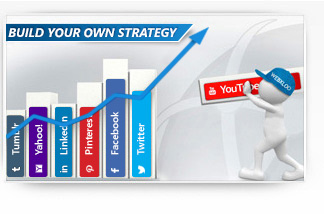 Social media is everywhere. It's on your phone, it's on your computer, it's shown on TV, in print ads, and talked about non-stop.
Facebook, Twitter, Pinterest, YouTube, LinkedIn etc You definitely know these words. The reason why it's called "social" is because it allows people to talk and interact with each other.
Business' social presence shows whether or not you're interacting, paying attention, and participating in the market. Social marketing is all about nurturing, building relationships and getting to know your customers. Give people a taste of what it's like to be inside your business. Your customers want to know who they're buying from, they want to align themselves with brands that have shared values. Use Facebook, Twitter, You Tube or even integration of these networks to convey what you stand for and why you do what you do.
So why is social media such a great thing?
Why Facebook and Twitter broke the mould? Why did Pinterest in couple of years become one of the hottest network? Why does YouTube attract millions of people and vendors? Just take a look how your business can benefit from it:
Build visibility:

Social media can help get your name and branding it out to others that could otherwise not be aware that you are even exists.

Attract prospects:

It allows you to attract and maintain an audience of people who want to interact with you.

Grow your traffic:

Once you have an audience you can drive people to your website.

Provide customer service:

Help solve customer's problems and take advantage of this golden public relations opportunity.

Reputation management:

Work with unhappy customers to improve their experience. It can result in more positive online reviews.

Encourage links:

Obtain natural links by linking back to your site within your social network sites.

Build loyalty:

Create more personal connection to the audience, social media give your company an online personality and may present opportunities for you to actually make friends.
Social is moving. It always has and it always will. Social media marketing takes time to build relationships and grow your network. You won't see results overnight. Keep that in mind when pursuing your own strategy. There's no formula that can be applied to everybody universally. There's a plan that can be applied, but every business has unique strengths and weaknesses within their presence that requires adjustments in direction to get them onto the right strategic track.
Webxloo helps you to find this track with our consolidated bunch of services into one, with integration of Facebook, Twitter, YouTube and Pinterest etc, with the opportunity to use redirect from one network to another. Get digital advantages to help your business maximize social media.
Last updated on January 21st, 2020