Let's face it, there are two parallel worlds that we are currently living in: an online one and the offline one. In the online world, there is a separate galaxy called Social Media. Twitter is one bright shining star that is very important for business and here is why.
3 important things you can do for your business by using Twitter: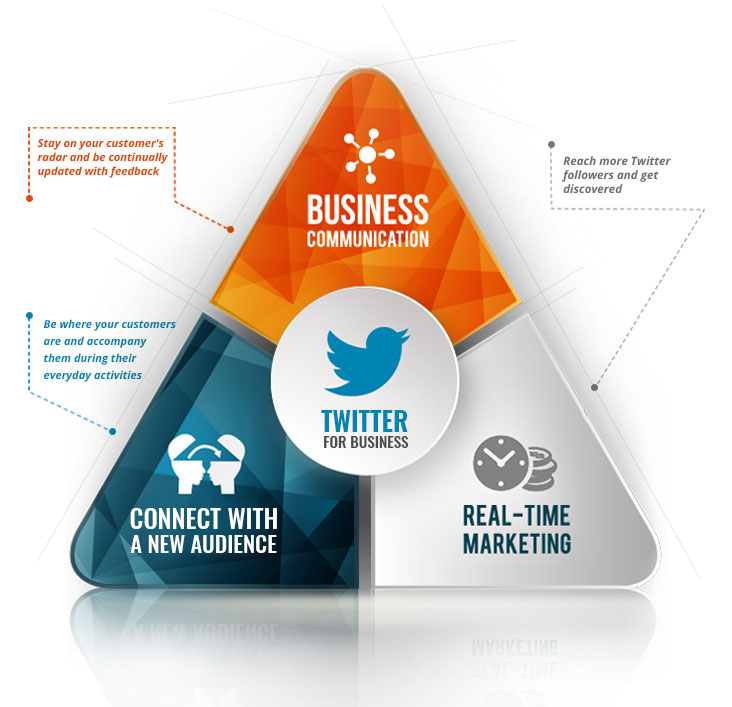 1. Connect with a new audience
One of the beauties of being present online is that you can meet customers you would never meet otherwise. But you won't necessarily connect with them if you are just present online aimlessly. Having a website is definitely a great start, and we are always ready to help you with a responsive design platform, but social media management for business allows you to also be where your customers are and to accompany them during their everyday activities.
2. Retain their attention
Twitter has a 280-character limit, but do you really need more? It's quite sufficient to announce an upcoming sale, a special offer, or to share some info about your company. Nowadays people have increasingly short attention spans, so as a business you need to pay your attention to it. It's a lot easier to remain in people's minds when you publish a brief message, rather than writing a novel (Although novels can also work but not on Twitter).
3. Prove that you are a trustworthy business
In the Social Media galaxy numbers can mean a lot. If your business's Twitter page has thousands of followers, likes, and comments, then tweeterers will see that you are worth following and your business has been tried and tested by many.
This leads us to the question: How do you get more followers on Twitter?
Tweet for customers
Let's assume that you already know who your customers are, i.e. you have defined your target audience and content that will be of value to that particular group. So now you just need to create a content flow that will attract and retain those people.

A great Twitter content strategy is a balanced mix of moderate bragging and relevant news, articles, videos, and infographics that your audience can relate to.

Follow the field leaders and their followers
Field leaders always have many followers that can become yours as well. Just follow the pages of the most influential companies in your field and start to follow their followers.
Post regularly
Twitter is one of the most dynamic social networks. It's always moving so you need to keep up. A useful rule of thumb is to use post scheduling that will help you to keep your profile active without staying on Twitter the whole day.
Use hashtags
Hashtags deserve an entire article considering how many business owners are underutilizing the power of them. When used correctly, hashtags can be an effective way to reach more Twitter followers and get discovered.

Widely used on all major social media platforms, the very first hashtag was actually posted on Twitter in 2007. Since then hashtags have been used to group data together so it can be easily found and tracked.

Do your homework to see what hashtags people are already using when talking about products and services similar to yours and include those hashtags into your posts.

Also, you can create your own hashtag campaign and launch it on Twitter.

Analyze
Twitter analytics is a means to help you to understand what content is working and what is not. By analyzing the engagement of each Tweet you can better understand your followers and make important business decisions. Tweeting blindly in ignorance of the impact your content is having is not a smart plan.
Takeaway
Using Twitter for business is a great way to stay on your customer's radar and to be continually updated with feedback. While sales leads can come directly from Twitter, you have to take the proper steps in order to make it possible. Our SMM specialists can help you to set up, as well as optimize, manage, and analyze the performance of your Twitter business account. If you want to become a part of the Twitterverse, contact us today and we'll make you land safely.
Last updated on June 22nd, 2022